LBK6 is the last survivor of the Thames lighters requisitioned by the Admiralty for D-Day, and converted for use by the Royal Navy.
In 1942 Lord Louis Mountbatten, of Combined Operations, ordered the requisitioning of 1000 lighters to be converted for use in any future invasion plans. They were unglamorous, but proved to be invaluable workhorses when the invasion of Normandy got underway. By September 1942 over 1,000 swim barges had been requisitioned and towed down to the South coast for conversion and various other uses. The Royal Navy put engines in about 400, and manned them with RN crews from HMS Wildfire. LBK6 was one of these.
HM Dockyard Chatham did some specialist conversions, including some of the LBK's. Some barges were given ramps, some were converted to carry fuel and oil, and some converted for other specialist work. In all, 10 LBKs(Landing Barge Kitchens) were converted. Many Thames lightermen "volunteered" to join the Navy, and went to HMS Wildfire, on the Isle of Sheppy, to train with the landing barges to ready themselves for whatever was coming.
LBK6 joined the 35th Supply & Repair flotilla, attached to HMS Dragonfly, Combined Operations Base at Hayling Island. She sailed for Normandy as part of Force "S", leaving Langstone Harbour in the early hours of 6th June. Force "S" had the task of landing the British 3rd Infantry Division on Sword Beach. LBK6's job was to provide hot meals and fresh bread to the smaller craft attached to "Force "S".
The weather was awful, and LBK6, with her heavy superstructure and flue pipes rolled alarmingly, and was not a pleasant vessel to cross the channel in. Once there though, she was soon in business, hanging her "FOOD" sign up for all to see. She was in great demand from the 52 barges of "S" Force, and could serve over 1000 meals a day, and bake 1,000 loaves of bread.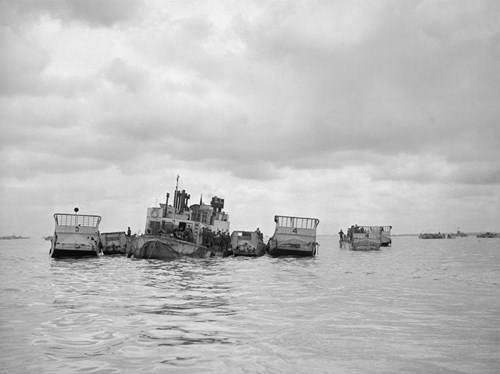 LBK6 moved to Gold beach at the end of June, and at Arromanches on 24th July she was visited by the Allied Naval Commander Expeditionary Forces, Admiral Sir Bertram Home Ramsey, KCB, KBE, MVC, who dined on her, thanking all the converted lighters for the excellent work they had done.
As the invasion forces moved inland, LBK6 joined several of the other S & R Flotillas, before being sent to Terneuzen in Holland, along with other barges providing food and fuel for the repair parties working to restore the Dutch infrastructure. She was left by the Navy in Rotterdam after VE day, to work as a soup kitchen for the starving Dutch population. Eventually, after the war ended she was returned to Portsmouth and had her engines removed.
As she was only given a short life expectancy she was sent to Chatham to feed crews of ships being refurbished after the conflict. She underwent essential repairs and she was due to be disposed of in 1963, but was then found to be needed in Portsmouth, where she went, and underwent a refit, with a galley upgrade in 1965.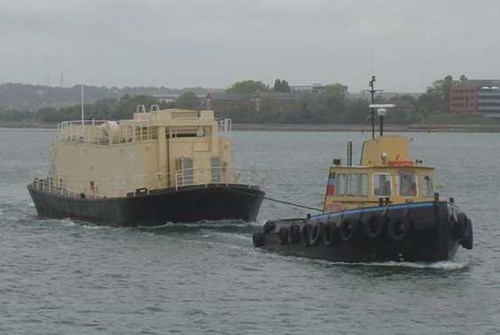 She was again listed for disposal, but for 18months in 1977/8 she was used during HMS Intrepid's refit, and was used periodically whilst ships were under refit.
In 1999 Members of the SF & Landing Barge Association, along with Senior Naval Personnel dined on LBK6.
She was finally sold in November 2007 to Harwich & Dovercourt Sailing Club, who had her towed to Harwich, which has a long standing association with the Royal Navy.
She recentley been refurbished by the club members to be HDSC's new HQ, and they know of her proud history and are determined to preserve her and her history in the manner in which she deserves.